25th Anniversary Celebration!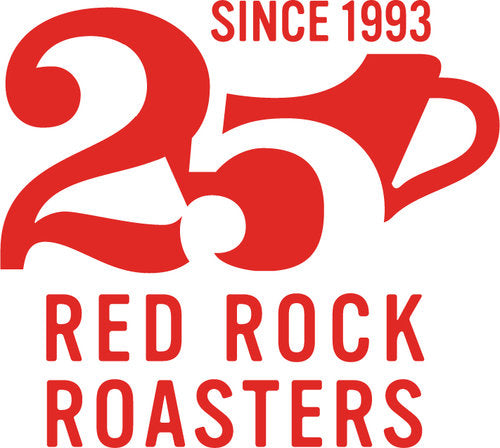 RED ROCK ROASTERS CELEBRATES 25 YEARS
Since 1993, the family-owned Albuquerque coffee roaster has honored a commitment to quality, integrity and community.
ALBUQUERQUE, NM
November 6, 2018
For Immediate Release
RSVP for 25th Anniversary Open House: lell@redrockroasters.com 
 
Albuquerque, New Mexico: Red Rock Roasters turns 25 this Fall, a milestone that the family-owned coffee roaster is celebrating with a limited-edition Anniversary Blend coffee, based on their first blend ever produced. Red Rock Roasters will also be hosting a 25th anniversary open house on Saturday, November 10, at their roastery in Albuquerque. The open house will feature tastings, brewing demonstrations, games and — for attendees who bring items to donate to the Roadrunner Food Bank — a raffle of coffee and gear.
David and Nancy Langer founded Red Rock Roasters in a converted barn in Corrales in 1993, and today the company operates out of a 8,000-foot production facility in Albuquerque. Though the company has grown and now sells Specialty coffees across the nation, it has retained its core dedication to consistent quality, unpretentious know-how and reliable customer service. And it remains a family business at heart. David and Nancy's daughter Rachel Langer is Red Rock Roasters' Coffee Director, and as Nancy told The Alibi last year of Red Rock's six non-related staff members, "Our employees are truly like family to us. We're so lucky to have their creativity and commitment."
"Looking back at a quarter century, there are so many achievements we're proud of, and they all stem from our community," said Nancy Langer. "Our partnerships with NGOs such as the Café Femenino Foundation have made possible our support of causes we believe in, including fair pricing for coffee producers and opportunities for female growers. Our participation in CarbonFund.org's Carbonfree Partnership has given us the platform to promote sustainability in the coffee industry (which, of course, we practice in all aspects of our business). And the quality of our coffees stems from our relationships with suppliers and from our expert roasting — on September 29th, we took first prize at the inaugural New Mexico Coffee Roaster Competition."
She added, "We couldn't have made it to our silver anniversary without our customers and community. We're very much looking forward to celebrating with them at the open house, to thank them for 25 years of phenomenal support."
About the Red Rock Roaster Anniversary Blend: The Anniversary Blend features Central American and Indonesian coffees balancing one another, with good body and rounded acidity and notes of burnt sugar, dark chocolate and dried cherry. It will be available for purchase on the Red Rock Roasters website.
About Red Rock Roasters: Red Rock Roasters, founded in 1993, is a family-owned multi-generational Specialty coffee roaster based in Albuquerque, New Mexico. They are, to date, the only roaster in New Mexico ever to have scored over 90 points from Coffee Review, an accomplishment they have achieved three times. Red Rock Roasters conscientiously sources the best green coffees in the world and roasts them with the care and professionalism they deserve, for the consumer and commercial markets. Coupled with their equipment and accessory lines, curated teas and hot beverage alternatives, they continue to lead the way through third-wave coffee trends and beyond.